I was super lucky to be approached my Bookollective on Twitter to be a part of the book tour for this new book release. I've decided to write this review and post it on both of my sites – my book site (thisgirlreadssite.wordpress.com) as well as my mental health site (thisgirltalks01.wordpress.com), simply due to the sensitive themes this fantastic book covers.
This is Emily Merrill's debut novel – and what a novel it is! Covering the difficult topic of controlling, abusive relationships, Ms Merrill does it flawlessly. It is a hard book to read – you see a 'normal' relationship on the outside suddenly turn nasty. The two main characters, Avery and Luke, suddenly hit a hard transition – Luke has followed Avery up to York to be closer to her and work whilst she completes her English degree. He is finding work increasingly more 'stressful' and more difficult to reach his father's high expectations, whilst Avery begins the book happy; content in writing her new book, settling well into her university life and house with her flatmates, as well as having made friends with an upcoming writer in a nearby café (Beckett). But it's this relationship which appears to first start to trigger Luke's obsessive, controlling behaviours off. The unravelling of a perfectly normal, happy girl, becoming withdrawn, secretive, self-blaming and controlled, is nothing short of disturbing.
I genuinely think this book should be in Secondary School libraries across the country. 'Mine' shows how the smallest of actions collectively suddenly become manipulative, and even the wisest of people will not dare to believe it is happening to them. Early on, Luke goes from sulking and snapping, to pushing and phone peeping. Things which may appear to be 'one-offs', but together become a whole map of control and calculating behaviours – detrimental to Avery's mental, and eventually physical, health.
This book is thrilling, hooking you in from the first chapter. Avery is a really likeable character and her life interested me – I feel like I really know her! The character description is incredible and the way that Emily writes this book is so, so clever. The abusive side to Luke could have been written in a much more obvious way – physically, perhaps. But the effect on the reader would have been much less intense, and it is, in fact, the more subtle of changes to both the verbal and physical responses to Emily's lifestyle that makes it all the more terrifying. That, and her unwillingness to share with those who love her, all in order to save face – after all, is admitting it believing it is happening?
The reality is, that this could happen to anyone – female or male – but spotting it isn't always easy. It may not even be in a partnered relationship, but within families, workplaces or friendship groups. I hope, and I'm sure Ms Merrill feels the same way, that if this book helps just one person to suddenly see similarities in their own relationship, to get them out, to save themselves, that it has done it's job. I absolutely steamed through it and couldn't wait to go to bed every night to get stuck back into it. My heart was pounding and I felt so protective of Avery within mere chapters of the book! It made me so angry, sad but also left me thinking long after I closed the book for the night – and certainly after the explosive final few chapters. A very cleverly written book, immersing you entirely into the complexities of such a relationship, but also the contrast in the setting of beautiful York. Well done, Emily Merrill on such a fantastic debut novel.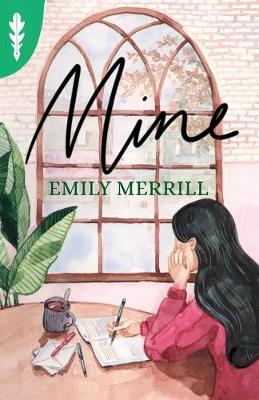 Official Description
Avery and Luke are solid. The love they have is the envy of her friends. So when he joins her at university, she's pretty sure that life can't get much better. But something is changing and when Avery makes a new friend in the brilliant writer Beckett, she starts to see a new side to the man she loves. A side that scares her. As their relationship begins to spiral, she's faced with a life-changing decision. Should she fight for her boyfriend? Or should she fight for herself?